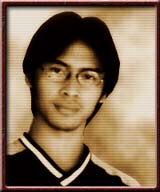 Probably you are lost that's why you are here, but just in case you're wondering...
My name is Heru C Rishardana, born on 7th of October on 76, in a very small town in south east Celebes, called Pomalaa. I finished my Junior there, and flied to Magelang for my senior high, and travelled to Bandung where now i study Architecture in Bandung Institute of Technology ( quite a well known Institute in Asia ), perhaps i could finish by the end of this year...hopefully, support desperately needed...: )...especially from gals, hehehe...just kidding ! I have quite some hobbies, and webbuilding is one of them, the others is soccer, and sleeping which is my favourite. Ironically Architecture is not one of them, fact that still confuses me all till now...
I have a wonderful family who support me all the way...and i love them all. my Father Drs. Soekarno Wiratmana, my Mother Marharyta Malonda, my Sis Yuni Heryani Amalia, my lil Sis Fitra Haryati Savitri, and i recently added three new lovely Sister, Firda Amali Putri, Fibriyani Elastria, and Widona Apriastuti. Bad News or is it good news ? i recently make myself unavailable for the first time by going out with this girl here... :) Ira Damayanti. This put me into trouble since she is a girl who ask one too many for a lot of things, or in other word...fussy! hehehe..:9.

And...You can reach me here :
home : JL. Pelesiran 7 B , Bandung Indonesia 40132
phone number : 022-2511107
e-mail : heru@ima-g.ar.itb.ac.id
vacation : BTN Minasa Upa Blok N2 no.11/12 Ujung Pandang Indonesia.